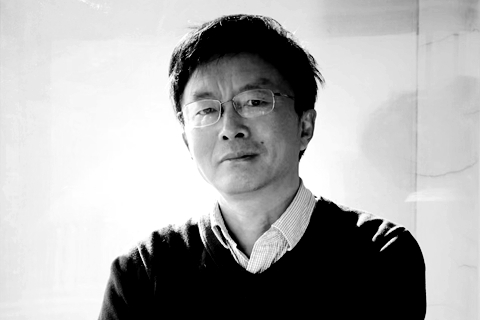 Zhang Jin left us on 5 December 2022. He was a veteran journalist, a committed advocator and social entrepreneur on mental health in China, and the closest person to a saint I've ever known.
Zhang's 56ys of life were divided into two parts: before his depression, he dedicated himself to journalism and later, after his recovery, to advocacy on mental health issues.
He was a founding member of China's most respected media outlets, Caijing and Caixin, and led China Reform, a magazine of intellectual debates on China's institutional reform.
I couldn't have been more fortunate to have spent my early journalism career under his mentorship. As deputy chief editor, he led Caixin's most idealistic, dynamic & human-centred news desk, covering anything from labour rights to environmental justice.
While Caixin is best known for its extensive coverage of China's economic reform & market insights, our desk was different. Led by Zhang, we looked into the hidden stories behind China's economic take-off, from political corruption to marginalised groups left behind in the tides of modernisation.
Zhang and the senior editors weaved a safety net for young investigative journalists like me. At the age of 20, I covered the Yihuang self-immolation incident on social media after press bans arrived and articles were removed. They made sure censorship didn't prevent us from revealing the truth.
More people know about Zhang for his second career as an iconic figure of mental health advocacy in China. He shared his decade-long fight against depression and reflections on mental health issues in 4 best-selling books. He also created "Do Go" ("渡过"), an online and offline community that has offered companionship to millions.
As former colleagues, we witnessed his journey of illness, recovery, and tireless dedication to destigmatisation. His subsequent advocacy has successfully placed depression on the national public health agenda and, more importantly, exposed the mental struggles of a generation of Chinese journalists to the public.
Zhang was not the first who suffered from depression. We, investigative journalists, are at the frontier of "political depression". Some of our closest colleagues have been suffering from depression since over a decade. A few interrupted their career for 2-3ys before regaining productivity, and some eventually took their lives.
For many of us, Zhang was a respectful colleague, a dear friend, and a beacon of light in the thickened darkness. He told us not to be fearful nor lose hope, even in difficult times. He led by example, inspiring us to dream, create and foster change, even when the soil for actions has never been poorer.
As I write, it occurs to me that I'm not only mourning the loss of Zhang Jin but also the end of an era. We might have together witnessed – and contributed to – the last "golden age" of independent journalism in China.
I have no idea what the future holds for us. I only hope we won't disappoint you.
May you rest in peace.
悼念张进(1966-2022)
张进于2022年12月5日离开了我们。他是一位杰出的记者、编辑,中国心理健康议题最坚定的倡导者,一名敢想敢做的社会企业家,也是在我所认识的人里最接近圣人的一位。
张进56年的短暂人生分为两部分:在他确诊抑郁症之前,他致力于新闻工作;在康复后,他全身心地投入对中国精神健康问题的倡导工作之中。
他是中国最受尊敬的媒体《财经》和《财新》的创始人之一。他还曾负责《中国改革》杂志,在这本期刊上,中国知识分子对体制改革向何处去等问题展开激烈辩论。
我非常有幸能在他的指导下度过我早期的新闻生涯。作为副总编辑,他领导了财新最具理想主义精神、最有活力和最以人为本的新闻部门(该部门已不复存在)。我们的报道内容包罗万象,涵盖从劳工权利到环境正义等种种社会议题。
财新以其对中国经济改革和市场洞察力的广泛报道而闻名。我们的部门则不同:在张进的带领下,我们着眼于报道中国经济腾飞背后的故事,关注政治腐败和在现代化浪潮中被遗忘的边缘群体。
张进和资深编辑们为像我这样的年轻调查记者编织了一张安全网。在20岁时,我曾冲破新闻禁令,在文章被删除后,使用社交媒体报道"宜黄自焚事件"。是他们的庇护和斡旋,让我们这些前线记者不必停下追求真相的脚步。
更多的人知道张进是因为他的第二事业:他是中国精神健康领域的标杆性人物。他在四本畅销书中分享了他十年来与抑郁症的斗争和对心理健康问题的思考。他还创建了 "渡过",一个线上线下社区,为数百万人提供了珍贵的陪伴。
作为曾经的同事,我们见证了他的患病、康复,以及此后为去除对心理疾病的污名化所做的不懈努力。他孜孜不倦的倡导工作成功地将抑郁症等心理健康议题纳入国家公共卫生议程。更重要的是,他将一代中国记者的精神挣扎呈现在公众面前。
张进不是第一个受抑郁症所困的中国记者。作为调查记者,我们是 "政治抑郁症 "的最易感人群。在我们身边,一些同事受困于抑郁症长达十余年,一些人不得不中断了职业生涯数年直到慢慢恢复工作能力,还有些人最终夺去了自己的生命。
对我们中的许多人来说,张进是一位令人尊敬的同事,一位亲爱的朋友。他在浓密的黑暗中,为我们支起了一盏明灯。他告诉我们不要惧怕,即便在最困难的时候也不要失去希望。虽然行动的土壤从未像今天这样贫瘠,他仍以身作则,激励我们去想象、去创造、去促成变革。
在我写下这些的时候,我意识到:我不仅是在哀悼张进的离去,也是在哀悼一个时代的终结。我们可能共同见证并参与创造了中国独立新闻的最后一个 "黄金时代 "。
关于未来,我一无所期。我只希望我们不会令你失望。
愿你安息。